What Are the Best Remote Assistant Jobs For Property Management?
Updated June 9, 2022.
The Covid-19 pandemic changed many things, and one of them is how people work. Lockdowns made it necessary for business owners and their workforces to adapt to working from home. If you started working from home more often than before the pandemic, you're not alone! As a result, more opportunities for remote assistant jobs for independent contractors have opened up, including in the property management industry.
If you're looking to continue your career as a virtual assistant—or you're ready to join the work-from-home workforce—property management might have the role you're looking for! You don't have to be a property manager to benefit from virtual assistant roles in this industry. Here's how you can fit in!
Remote Contractors Enjoy Many Benefits!
Remote workers and assistants do many tasks that in-house W-2 workers can do within a property management company. However, as a VA, you complete these tasks from your home office or wherever you choose to work remotely as an independent contractor.
Virtual property management company jobs come with several benefits:
No long commutes to work!

Working for companies located anywhere in the world from your remote office.

Flexible hours depending on your schedule (and client needs).

An in-demand career that helps you build the lifestyle you want!
So, if you're not a property manager, how can you be "in demand" in the property management industry? While property management experience is a plus, business owners outsource a variety of roles and tasks to remote workers. Build the property management experience that helps boost your resume with a remote work position that fits your skills now!
What Kind of Remote Assistant Jobs Are Available?
Since rental properties can't travel to where you are, virtual assistants won't do hands-on work at properties managed by their clients. You won't conduct on-site inspections, fix toilets, or pick up rental checks.
However, with property management software and technology that allows anyone to work anywhere, virtual assistants can fill needs for property managers in a variety of ways. If you're available during "after business" hours (depending on the "home office" time zone for your client), you have even more opportunities to work for property management clients in a number of ways.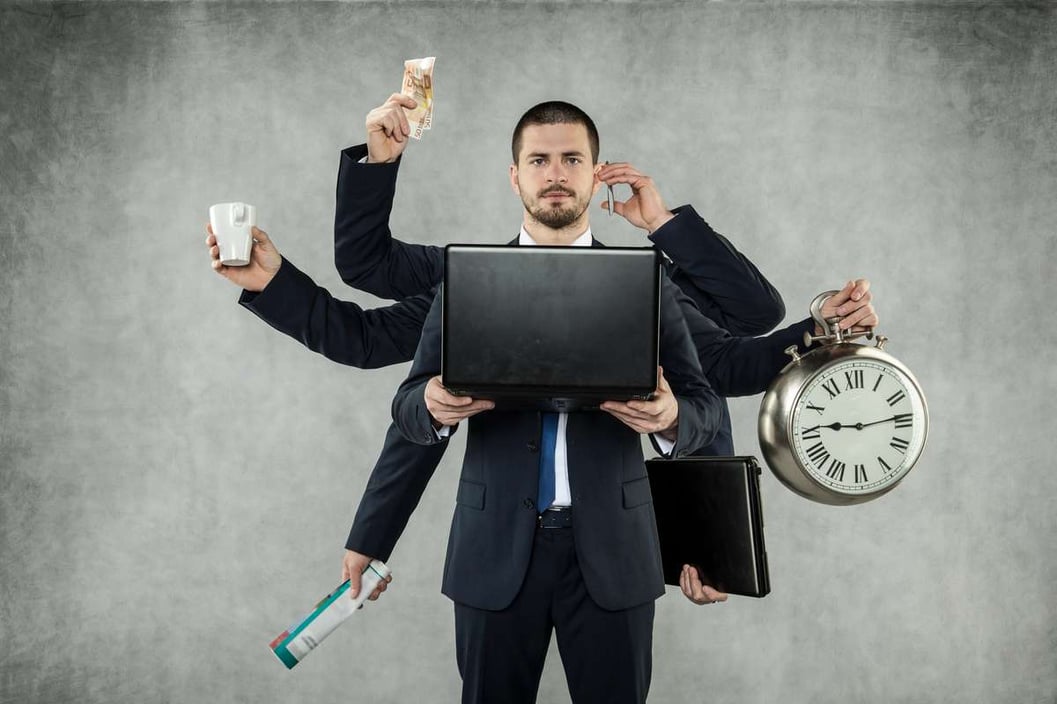 Property Managers Need VAs for These Roles
Though the name suggests that a property management company comprises only or mostly property managers, that is not the case. Almost every business in every industry needs standard roles that don't pertain directly to serving clients. If you're an accountant, researcher, or administrative assistant, you can work remotely serving property management companies!
Virtual property management company jobs include:
Administrative assistants who respond to concerns and questions from existing and potential clients. This may be about administrative support, organizing a physical or virtual property tour or sending out lease or rental agreements. You might also order office supplies for the "in-person" office, coordinate schedules, and man the phones after hours.

Data entry clerks maintain databases of tenants and property owners for a property management company. You'll play a critical role in keeping records and contacts up to date when new tenants move in, others move out, and new property owners are onboarded as clients. Data entry can also include processing rental applications and monitoring rental listings.

Specialized remote contractors are in demand within the property management industry for accounting, bookkeeping, and web design. Property managers focus on managing tenants, properties, and property owners. It's common for them to outsource invoicing, accounts payable, and website maintenance.

If you enjoy working with people and solving problems, tenant management roles are perfect for you! Respond to requests, coordinate maintenance services, and make sure renters are well cared for.

Marketing and sales specialists can succeed in a variety of roles within a property management company. From marketing the company itself to maintaining social media and marketing rental properties, your skills are valuable as a remote worker!
Don't let "property management" scare you away from opportunities that can help you pursue your career as a VA! Remote assistant jobs are plentiful and require people with different skills and backgrounds to help property management operate and grow their businesses.
Be Your Own Boss With Contract Remote Assistant Jobs!
You might not have your own property management company to run, but you can be the boss of your time and career when you pursue a career with contract remote assistant jobs! If you're struggling to find the opportunities you need, consider the property management industry for your next role.
VPM Solutions helps virtual assistants from all walks of life find quality remote assistant work in the property management industry! When you set up a profile, you'll see a variety of virtual property management company jobs posted by property managers around the world who are looking for you! Connect with potential companies and bring your skills to the property management industry—remotely!
Start your career as a property management VA! Download our free resource, "Launching Your Career as a Property Management Virtual Assistant."