Easily Identify Quality Matches
for Real Estate and Property Management
The VPM platform is where real estate professionals and property managers find the top virtual team members with a broad spectrum of skills. From accounting and administrative duties to overseeing maintenance requests and coordinating between vendors, tenants, buyers, sellers, and more, you can connect with virtual team members who will work seamlessly with your business as independent contractors.
Start by posting a job. Tell us about the available position and the specific skills required.

Once posted, your job will be advertised to qualified virtual assistants who can apply through our platform.

Using our

TalentMatch advanced data science, our proprietary search technology will spotlight the best team members based on their skills—making it easier for you to find talent that's a great match.

Each candidate will be assigned a

TalentMatch

score based on your job requirements.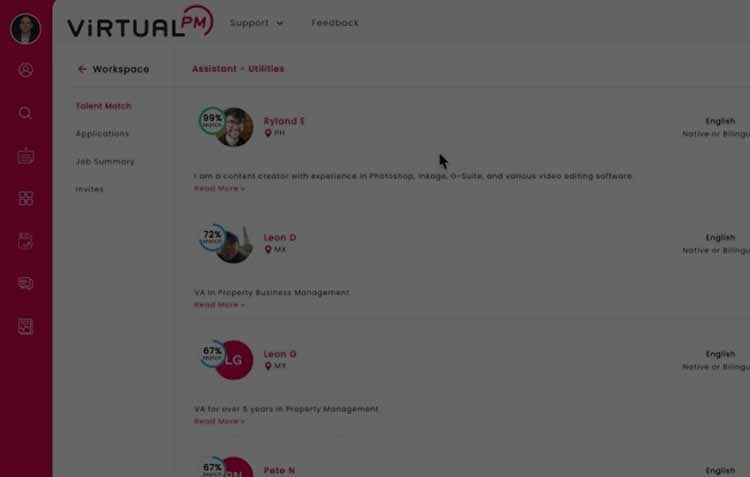 Does Virtual PM Solutions screen the proposals I receive?
We strive to ensure that Virtual PM Solutions is a completely fair and reliable marketplace. To that end, we verify that the remote team members in the platform are who they say they are using email and identity verification. You can also access the following to authenticate each candidate's identity and skill level:
Authenticating email addresses
ID and video verification
Job scores and feedback from previous clients
Online skills test results.
We facilitate making connections between companies and team members, but we don't want to limit your ability to find the right hire. Only you can truly be sure that the skills and experience of a candidate meet your needs. Employers have the option to add custom screening questions to your job post to ensure that the right candidates find your project.
Contract With Only the Best
The VPM platform gives you full control over finding the perfect virtual team member as an independent contractor.
Browse profiles: View the profile of each potential candidate, including their

skills, work history, education, and more.

Review proposals: You can take into account qualifications, timeline, cost, and other considerations to evaluate each bid a candidate sends you.
Message applicants: Enjoy open communications with potential team members to ask questions, brainstorm, and determine who is the best fit.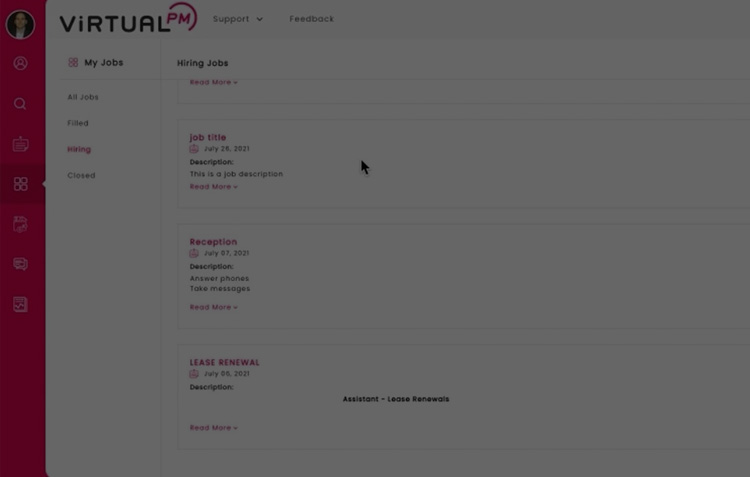 What should I look for when hiring through Virtual PM Solutions?
Every remote team member in the VPM marketplace creates a profile page. These pages make it easy for employers to evaluate job candidates before hiring. Profiles can include a list of skills, work experience and samples, client feedback and ratings, test scores, and more. Profiles are also searchable based on the skills and requirements of your choosing.
How do I hire through Virtual PM Solutions?
Once you've created a profile as an employer in the VPM platform, you can post jobs, review candidates who match your criteria, and interview candidates via chat, video, or text to make sure you've found the best fit.
Work Effectively and Efficiently
For every project, you and your team will share an online workspace with any virtual property management assistant or real estate virtual assistant you choose to add to your team.
Through the online platform, you can:
Share feedback in real-time:

Message

with team members through the VPM platform.
Review timesheets submitted by your virtual team member for work performed.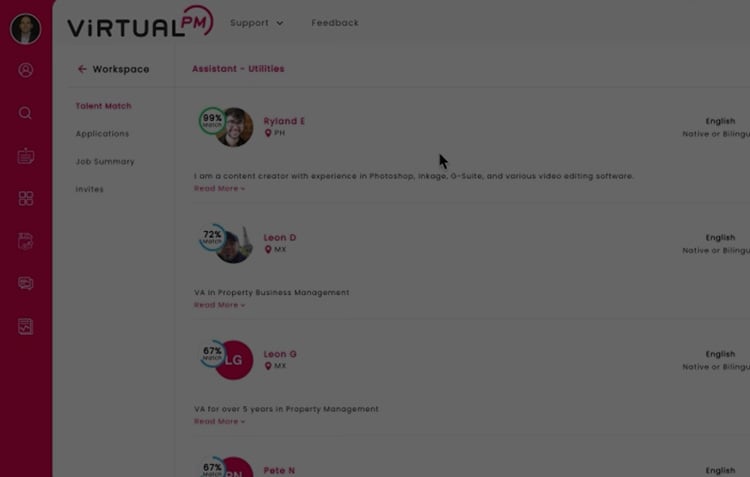 How do I know I'm being billed accurately?
The VPM platform includes several built-in methods of verifying work. We offer a time tracking feature that tracks billable time and records completed work.
Coming soon, the platform will also count keystrokes and take screenshots of your team member's work as it is being done. This allows you to easily verify billable hours.
Make Easy Payments With Peace of Mind
You approve all work prior to payment through our easy payment processing:
Simple payments worldwide: Use our platform to easily deliver payments to remote team members across the globe.
Secure payment protection: With VPM Solutions, you only pay for the work you approve.
Detailed invoicing and reporting: Your full transaction history and invoices are always easy to access.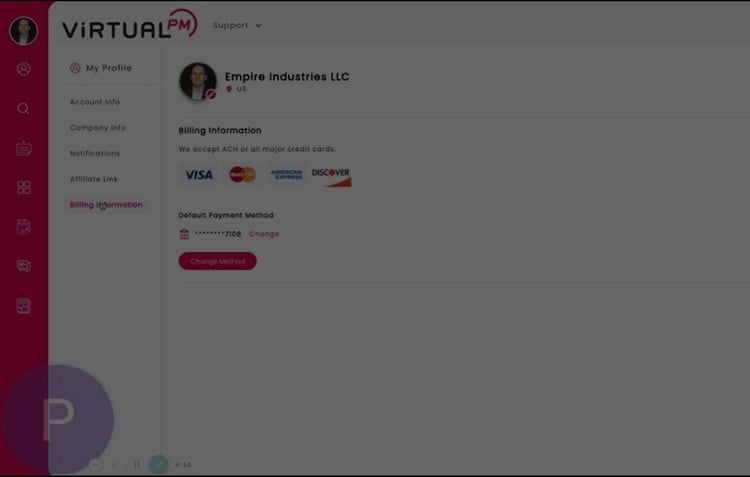 How do I pay my virtual team members, and what does it cost?
The VPM platform has been designed to make paying your virtual team member simple and safe. Choose to pay via MasterCard, Visa, American Express, or Discover to make quick, secure payments. Most payments are subject to a 3% processing fee.
Do I get official invoices through VPM?
Yes, all payments include official invoices available to print or download at any time.
Am I responsible for filing tax forms?
As a general rule of thumb, employers who hire virtual team members through VPM shouldn't be responsible for filing 1099-MISC forms for their team members. This is one of the key benefits of paying virtual team members through our platform.
Through the VPM platform, you will find independent contractors. As long as they are properly classified as such, you shouldn't be responsible for reporting payments on Form 1099-MISC. This is made possible by the fact that our escrow service, through which payments are made, is considered a "third-party payment network." As a result, Form 1099 reporting is our responsibility—not yours.
When applicable, we are required to report payments to independent contractors on Form 1099-K. That frees you from any responsibility to report on Form 1099-MISC, and we do not send Form 1099-MISC on behalf of our clients. We also require all persons who find work through our platform in the U.S. to submit Form W-9 to us.
That being said, it is your responsibility to correctly classify those who do work for you through Virtual PM Solutions as independent contractors, not as employees. Determining the proper classification of all of your remote team members is up to you, and you should refer to the IRS guidelines and other federal, state, and local regulations applicable to you for freelancers based in the United States.
If you have questions or concerns about any tax-related issues pertaining to hiring remote workers through our platform, we recommend consulting your tax professional.