What a Property Management Virtual Assistant Can Do as Your Maintenance Coordinator
Building a team that serves owners and tenants well while optimizing efficiency and your company budget can be challenging. However, a virtual solution for your workforce can accomplish all of those things!
When thinking of the support properties need to keep them in excellent condition and respond to tenant requests, a virtual maintenance assistant can be the ideal role. Property management companies can also reduce payroll costs when choosing virtual workforce solutions!
So, keep reading to learn what a property management virtual assistant can do for you as a maintenance coordinator.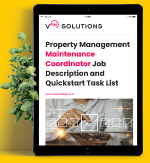 Property Management Maintenance Coordinator Job Description & Quickstart Task List
Get Our Free Maintenance Coordinator Job Description and Task List
Whether it's a residential or commercial property, a property management virtual assistant can effectively serve as your maintenance coordinator, helping streamline tasks, reduce costs, and enhance the overall efficiency of property management. By leveraging digital resources and virtual property management talent, you'll experience the benefits of choosing remote workforce solutions for your property management company's customer service and growth!
If you're ready to find a virtual assistant to fill a maintenance assistant role, download our free Maintenance Coordinator Job Description and Task List. This resource will guide you through creating a job post that will help you find the best candidates for the role. It also provides some "get started" and common tasks to help your new VA ramp up quickly in their new role.