Business Owners
We Solve the Challenge of Finding Great People
Our platform is dedicated specifically to the property management and real estate industries and attracts high-quality industry-experienced professionals.

Your job posting will be viewed by hundreds of talented Virtual Assistant candidates.

Candidates apply directly to your job, and you will be able to invite candidates to apply whose skills match your criteria.

Property management virtual assistants and real estate virtual assistants create detailed profiles with their specific skills and experience.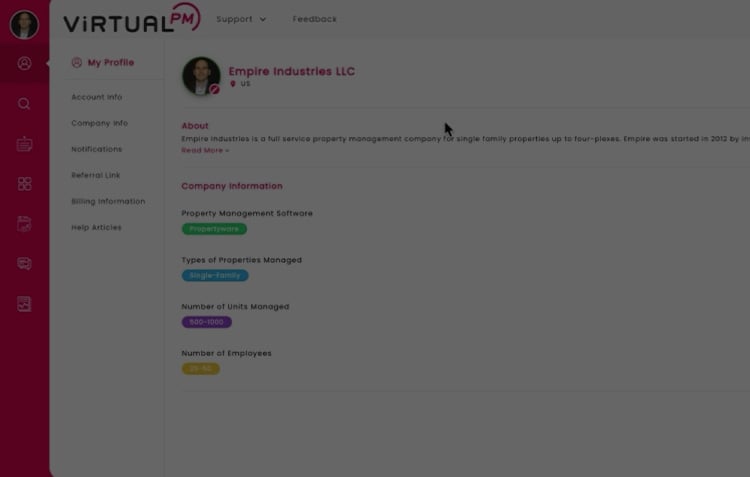 Scale For What You Need, When You Need It
Post jobs for only what you need. Independent contractors for part-time, full-time, short-term, long-term—we offer it all.

Provide time requirements and your hourly budget. You can define the duration of the job, whether it's long-term or short-term.

Post multiple jobs at the same time to quickly build your team of experts.

VPM helps reduce stress by minimizing the time it takes to fill open positions.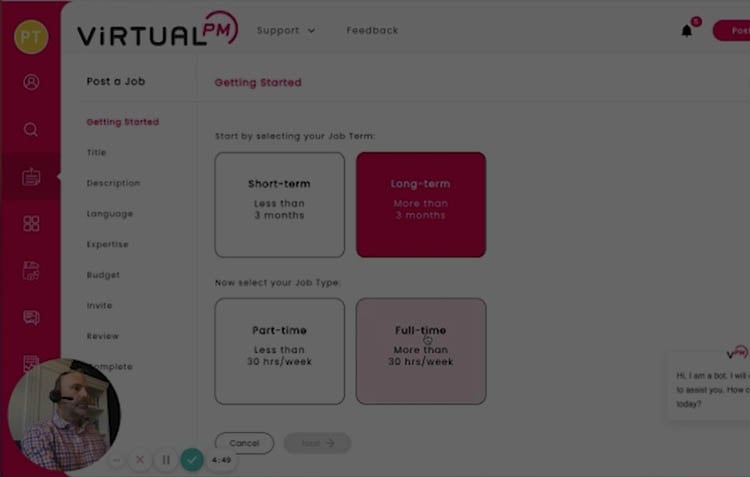 Industry Specific Training—VPM Academy
Reduce training time! Contractors take training courses before you contract with them

Contract with people who have basic industry knowledge through our VPM Academy

Post jobs with recommended training

Search profiles based on certifications

VAs must test out before they receive a certification

Contract with people who know the industry lingo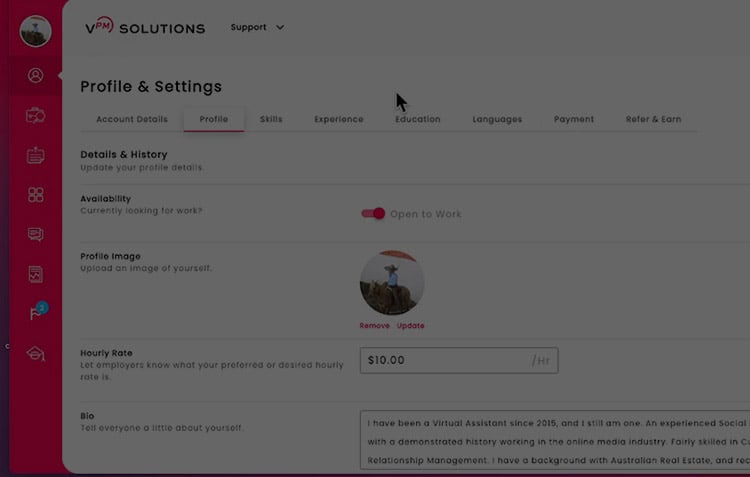 Advanced Search Options
Looking for a diamond in the rough? Look no further. Our pre-defined or advanced search criteria allow you to select your virtual next team member based on your specific requirements, skills, experience, and more.
English Proficiency
Whether your role requires conversational English skills or someone that designates English as their primary language, you will easily identify your ideal team member based on our English proficiency identifiers.
Skills
Companies can search for general skills, general software skills, property management experience, real estate experience, and property management or real estate software experience to expedite their results.
Video Resumes
Companies can now quickly verify that the person in the video matches a profile, gauge English proficiency, and see how a virtual assistant candidate presents themself in a professional setting. Viewing video resumes also helps business owners save time before talking with a candidate who might not be the right fit for a role.
Our Guarantees
Our guarantees ensure that quality work is paid in a timely manner, giving both parties peace of mind.
Talent Match Guarantee
We guarantee that you will not be charged unless you find and select a contractor for your posted job.
Satisfaction Guarantee
No contracts. No penalties. Cancel anytime.
Time Tracking Guarantee
All tracked time is available for review through automated reporting prior to being billed.
Payment Guarantee
We guarantee that we pay your virtual team member(s) every time you make a payment.
No Middleman Guarantee
We guarantee you have direct access to your virtual team member(s).
Virtual Assistants
We Help You Connect With High-Quality Property Management and Real Estate Companies
Our platform is dedicated specifically to the property management and real estate industries.

We connect talented freelance virtual assistants with high-quality real estate and property management companies in need of their help.

You'll work directly with your clients, eliminating the cost and confusion of working with a middleman.

Work with quality clients around the world, from anywhere in the world!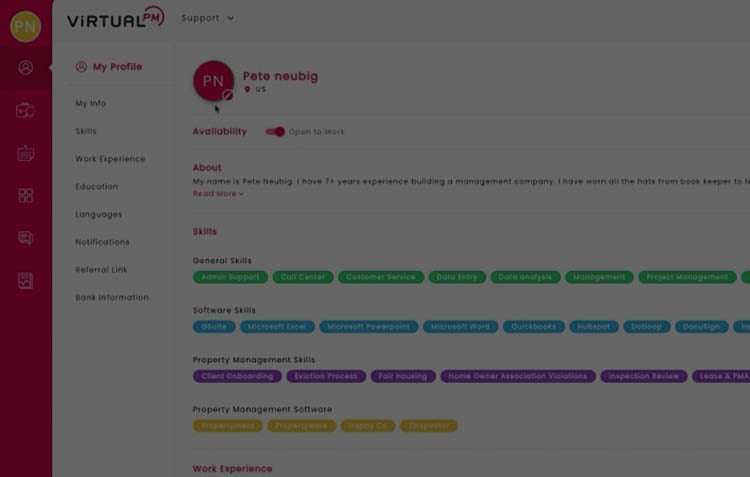 We Make it Easy to Showcase Your Skills
To get started, you'll build a profile that showcases your skills and experience.

Apply to as many or as few jobs as you'd like. Companies will review their applicants and choose the one with the skills and experience to match what they're looking for.

You can add a video resume to your application to let clients know a little more about you and make your application more personal.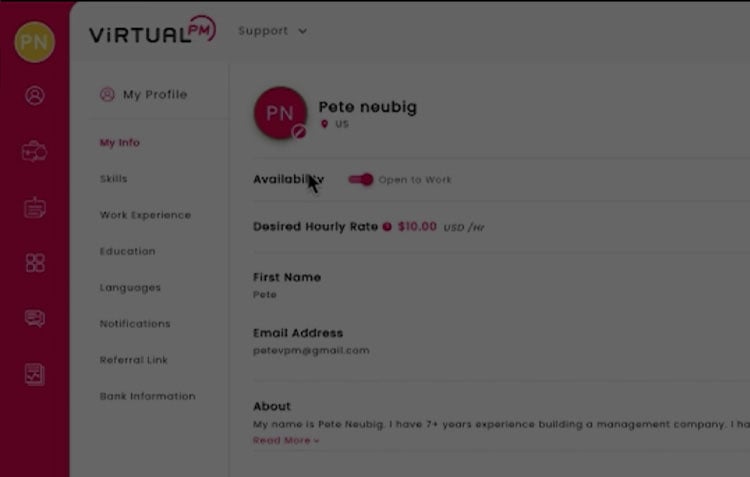 Track Time and Receive Payments With Ease
Our platform makes managing your career as a property management virtual assistant or real estate VA a breeze.

From creating your profile to tracking time spent on projects, you'll do it all from the platform.

Payments are processed through our secure payment processing portal. You'll get paid on time and be able to reference your time spent on a project to better estimate the time needed for future ones.

We handle all payments and tax information, so you get paid for your work and avoid tracking down important documents come tax time.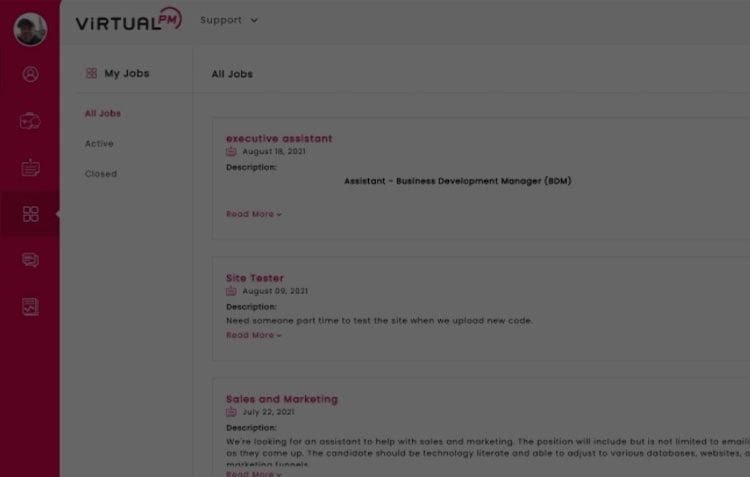 No Experience. No Problem. Get Free Industry Specific Training.
VPM Solutions offers free industry-specific training through the platform

Obtain certifications for each training completed

Improve your chances of finding a job

Increase your desired hourly rate

Search jobs based on recommended certifications, take the certification, and apply for the job

Get found by companies searching for specific certifications